Folk Club Concert – 4th July (Bookings via Trybooking)
4 July, 2020 @ 7:30 pm

-

10:30 pm

|

$ Donation15
Bookings On-Line via following link to Trybooking:
https://www.trybooking.com/BKDLC
Rosie McDonald is an established singer/guitarist, whose guitar playing style could be described as strong and rhythmic, with the acoustic driving rhythm, alternate tuning and finger picking style guitar along with bouzouki and bodhran.  Rosie's rich alto voice, leads the listener into the stories from the folk, traditional and blues traditions. Performing at numerous festivals in the bands -Seanchas, RAPT, Folklore and the Hippy Trippy band. Rosie played for 15 years in Mothers of Intention folk group  who were regular performers at the Newcastle Hunter Valley folk club. Mothers of Intention won a MusicOz award in  2007 with "Travelling song". 
Nigel Lever is a renowned bluegrass and folk mandolinist / guitarist and singer. Playing with the groups The Willing Ponies,  3 Jimmies, The 3 Marketeers, Trippy Hippy Band and The Faraway eyes. Founding member of Acoustic Shock and member of the Karen Lynne band. Nigel has toured extensively in Australia and overseas, as well as frequently travelling to the American Bluegrass heartland to immerse himself in the music at festivals such as Grey Fox, Preddyfest, IBMA and Galax festivals.
This melding of musical styles is an exciting natural progression for these 2 fine musicians.
https://www.youtube.com/channel/UCy_-_80qFDpUG8l9aqNDK4Q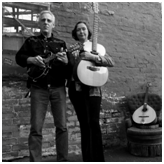 Share This Story, Choose Your Platform!