Ukes 'n All – A showcase of the variety and brilliance of the Ukulele – at Uniting Church Hall 178 Glebe Rd, Merewether
2 November, 2019 @ 7:30 pm

-

10:30 pm

|

Donation $15
 The 3rd Annual  UKES 'N ALL CONCERT
Come and hear Blues and Folk – songs that will raise your spirits and make you think.
FEATURING:
SUE ROBINSON,  TRIPLE EFFECT, ORIGINAL CYN AND CO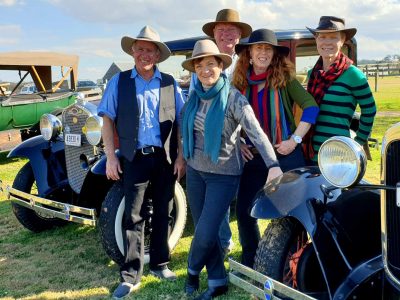 CLYDE STREET (formerly Uke'n'Jammit)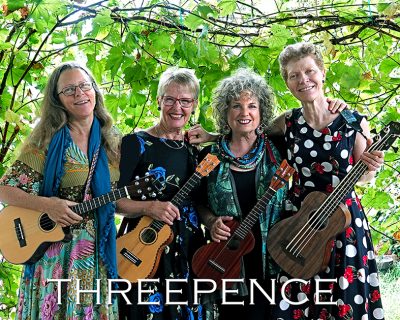 THREEPENCE
Fine music and soaring harmonies.   Don't miss it!
Original Cyn Bio
Original Cyn & Co are a ukulele and ukulele bass duo who make well-known songs their own. Cynthia (the original Cynner!) began her performing life as an accomplished piano player, moving to ukulele around seven years ago. Cynthia (vocals and ukulele) plays her own distinctive chord melody arrangements. Danielle (vocals and u-bass) also provides the occasional original (song). Danielle has been in a number of bands playing guitar, bass and drums, and is a long-time ukulele and u-bass teacher in Newcastle. Both voices have highly compatible tones and ranges which result in beautiful harmonies. Together, Original Cyn & Co bring their combined musicianship to a range of carefully selected songs which they perform at ukulele festivals, local restaurants, clubs, charity gigs and house concerts.
Triple Effect Bio
Triple Effect, an acoustic folk trio comprising guitars, ukuleles, banjo, bodhran, recorder and vocals sing original songs about contemporary social and environmental issues, as well as songs that speak to the heart.
Sisters Carrie and Lynden Jacobi with Len McCarthy are social, environmental and political activists, and sing songs informed by their backgrounds, exploring a range of serious themes, as well as looking at the lighter side of life.
Threepence Bio
Threepence is a 4 piece group with a focus on harmony singing with Penny Creighton, Anne Cowper, Lynden Jacobi on ukulele and vocals; and Gail Walsh on u-bass and vocals. They met through the Newcastle Ukestra which gave them an ideal stepping stone to venture into something more intimate. Threepence covers an eclectic mix of blues, folk, a capella and original songs. They have delighted audiences at festivals in Australia and NZ for the past 3 years with their warm and inviting performances.
ClydeStreet bio
ClydeStreet has recently gone through an identity crisis, trying to disguise the fact that they are ukulele aficianados. Like wine, this group is maturing into a fine vintage. For you, they will now perform music unlikely to appear on any ukulele songlist. Enjoy ClydeStreet's expressive instrumental and vocal harmonies and lively rhythms. Share their love of ensemble playing, where each band member has a unique role to play. ClydeStreet have been making music together for 3 years and are always looking to expand their musical skill and experience.
Share This Story, Choose Your Platform!