"Folk Music is as much a way of life as a traditional form of entertainment"
The Folk Scene in Newcastle is currently the strongest it has been since the 'boom times' of the early 1970s.  Explore our website to discover the rich variety of regular activities, including –
informal instrumental or singing sessions
poetry / bush poetry
open mic concerts
monthly more formally structured concerts with outstanding Australian and International performers
annual 'SessionFest' camping weekend
We gather to entertain and learn from one another about folk lore and folk music in its many styles, to develop our skills, and help keep our traditions alive.
We sing, play instruments, dance, tell yarns – and basically have a good time in a social atmosphere of mutual support and acceptance.  Many accomplished folk performers come to our club, enhancing friendships and making new ones.
You are invited to join!
The many benefits of Club Membership include:
Reduced door entry to most Club nights and events
Folk.e.News Newsletter via Email
Public Liability Insurance covers all Club events – performers and audience
Annual Membership falls due on the 30 April each year.  Up to 6 months free membership available when first joining.  Just ask our membership officer for details.
Children are welcome at all Club events. Those under 16 get free entry to most events
You belong to an organisation helping to keep our culture alive
Membership Fees:
Single:   $20 per year
Family:  $25 per year
Concession Single:   $15 per year
Concession Family:  $20 per year
To become a member simply print off the membership application below, complete and return as per instructions on the bottom of the document (note: to print click on the form to highlight it, press Control+C to Copy, open a blank Word document, press Control+V will paste it into your document.  The form should display on the page, then just print the page as per normal)
For further information  contact our Membership Officer, Matthew Clarke on 0427499336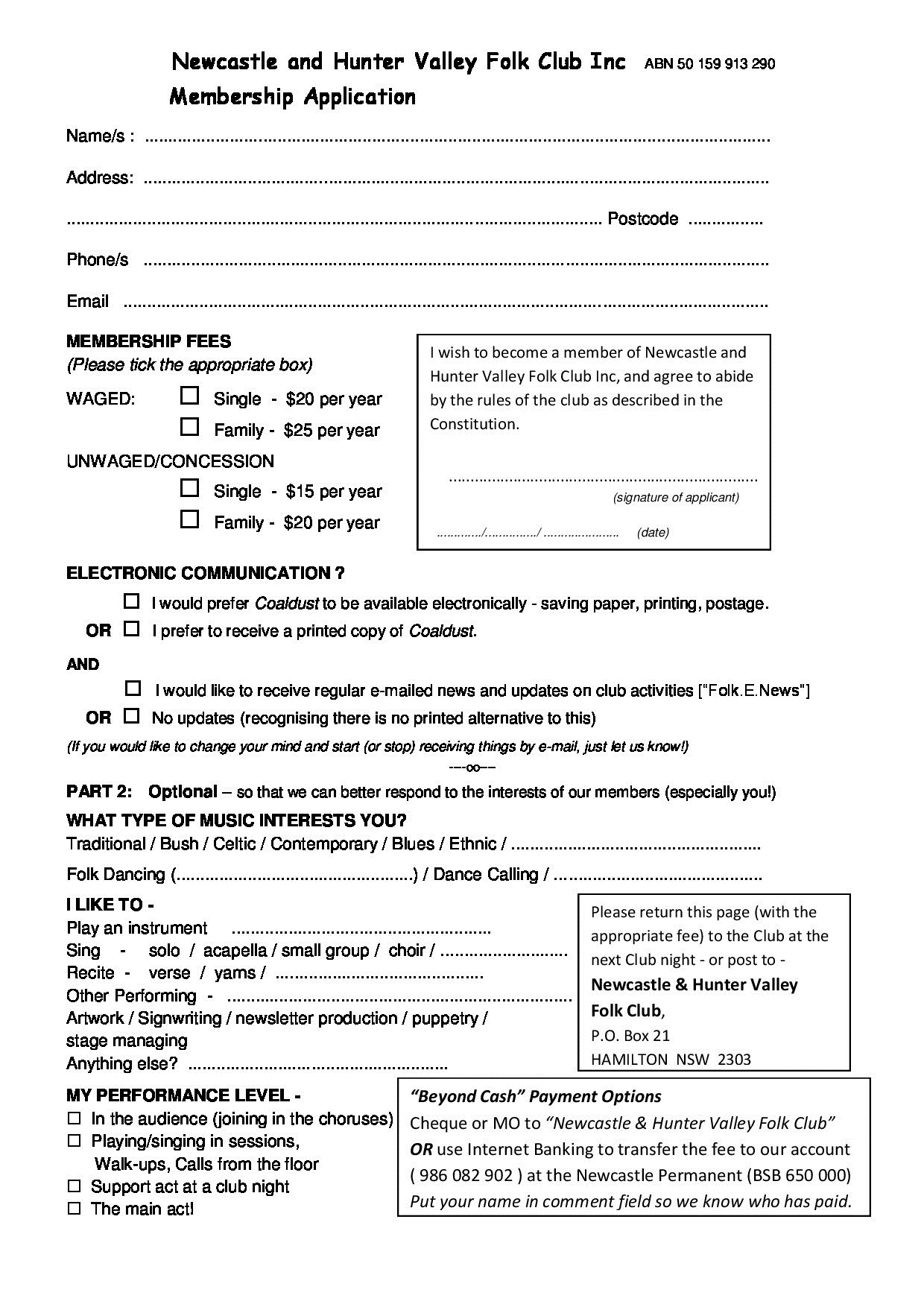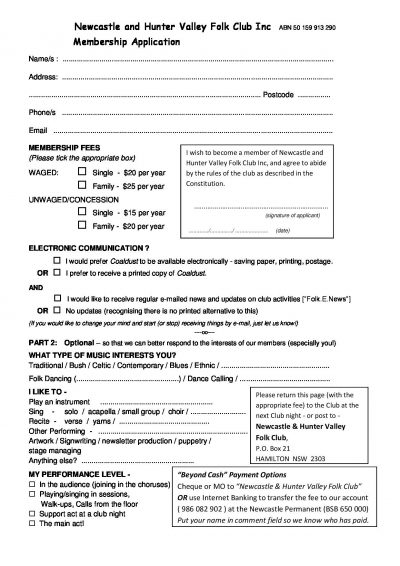 Every financial member is entitled to a copy of the Constitution of the Newcastle & Hunter Valley Folk Club Inc. The Constitution is available below.
MEMBERSHIP APPLICATION
Complete our Membership form below and pay via bank deposit.