SessionFest
June 10

-

June 13

|

$10.00
SessionFest is on again in 2022!
SessionFest is where you create the event, the atmosphere & the music. Come and sing, play, recite, yarn, swap, learn, teach and encourage.
A little formal programming is provided including our usual
Saturday & Sunday night themed Concerts;
Blackboard performance opportunities;
Poetry and Yarns sessions;
Music & Tune Workshops (not yet confirmed);
Saturday and Sunday evening soup kitchen and mulled wine;
Tea and coffee available all weekend.
And for the rest of the time, session with old friends and/or make some new ones.
Of course, Session Etiquette applies.
Administration fees (to cover cost of hiring the venue and SessionFest expenses):- $10 per person weekend fee (children under 16 accompanied by a parent or guardian free); $5 per person per day attendance fee.
All camping at Morisset Showground for Newcastle & Hunter Valley Folk Club SessionFest 2022 MUST be booked through the TryBooking ticket office (links below) NOT Lake Macquarie Council.There are twenty-one (21) Powered Sites and thirty (30) un-powered sites available.
Powered site $25 per night, Unpowered $20 per night. ALL CAMPING on the top flat only this year.
Trybooking Camping Ticket Link
https://www.trybooking.com/BYWQT
Trybooking Camping Ticket QR Code link
Please contact Camping Organizer Matthew Clarke musomatthewc@gmail.com or 0427 499 336 for site allocation.
Enquiries/Contact:  SessionFest Co-ordinators, Brent (Bilbo) Rodgers 0410 584 533 or Toni Davies 0401 580 565 or email sessionfest@gmail.com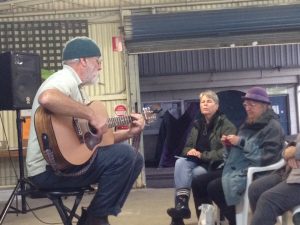 Share This Story, Choose Your Platform!